Book Club Mini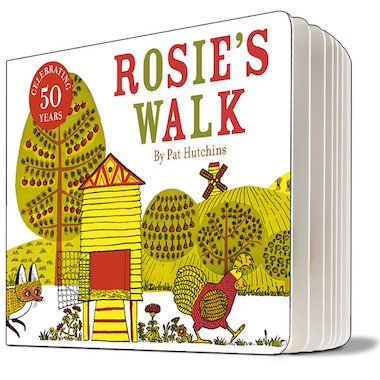 The Book Club Mini range is carefully chosen by our team of literacy experts to offer the best books at amazing discounts. New and classic picture books, fiction and non-fiction for children aged 0 to 6 years.
Whether you're looking for a great new read or you simply want to stock up on the best picture books, there's something for every child (and adult!) to enjoy. Don't forget that every order over £10 will earn your school 20% in free books – so you can keep reading all year round.
One of our favourite books currently on offer is
Rosie's Walk
! This classic story is celebrating its 50th anniversary this year and is available in brilliant board book format for just €8.
See more

The newest books for 0-6-year-olds
The newest books for 0-6-year-olds
eur prices

Offer price:

€8.00

RRP:

€9.30

gbp prices

Offer price:

£6.00

RRP:

£6.99

eur prices

Offer price:

€8.00

RRP:

€9.30

gbp prices

Offer price:

£6.00

RRP:

£6.99

eur prices

Offer price:

€7.00

RRP:

€7.97

gbp prices

Offer price:

£5.25

RRP:

£5.99

eur prices

Offer price:

€7.00

RRP:

€7.97

gbp prices

Offer price:

£5.25

RRP:

£5.99

eur prices

Offer price:

€6.65

RRP:

€7.33

gbp prices

Offer price:

£5.00

RRP:

£5.51

eur prices

Offer price:

€3.20

RRP:

€3.66

gbp prices

Offer price:

£2.40

RRP:

£2.75

eur prices

Offer price:

€10.30

RRP:

€13.75

gbp prices

Offer price:

£7.75

RRP:

£10.34

eur prices

Offer price:

€39.25

RRP:

€43.82

gbp prices

Offer price:

£29.50

RRP:

£32.95

eur prices

Offer price:

€46.55

RRP:

€55.78

gbp prices

Offer price:

£35.00

RRP:

£41.94

eur prices

Offer price:

€43.25

RRP:

€49.14

gbp prices

Offer price:

£32.50

RRP:

£36.95

eur prices

Offer price:

€8.00

RRP:

€9.30

gbp prices

Offer price:

£6.00

RRP:

£6.99

eur prices

Offer price:

€4.00

RRP:

€4.58

gbp prices

Offer price:

£3.00

RRP:

£3.44

eur prices

Offer price:

€6.00

RRP:

€6.64

gbp prices

Offer price:

£4.50

RRP:

£4.99

eur prices

Offer price:

€7.00

RRP:

€7.97

gbp prices

Offer price:

£5.25

RRP:

£5.99

eur prices

Offer price:

€8.00

RRP:

€9.30

gbp prices

Offer price:

£6.00

RRP:

£6.99

eur prices

Offer price:

€6.65

RRP:

€7.34

gbp prices

Offer price:

£5.00

RRP:

£5.52

eur prices

Offer price:

€11.65

RRP:

€15.93

gbp prices

Offer price:

£8.75

RRP:

£11.98

eur prices

Offer price:

€49.90

RRP:

€64.12

gbp prices

Offer price:

£37.50

RRP:

£48.21

eur prices

Offer price:

€6.00

RRP:

€6.64

gbp prices

Offer price:

£4.50

RRP:

£4.99

eur prices

Offer price:

€25.25

RRP:

€27.89

gbp prices

Offer price:

£19.00

RRP:

£20.97

eur prices

Offer price:

€48.20

RRP:

€58.43

gbp prices

Offer price:

£36.25

RRP:

£43.93

eur prices

Offer price:

€11.65

RRP:

€15.93

gbp prices

Offer price:

£8.75

RRP:

£11.98

eur prices

Offer price:

€74.80

RRP:

€95.60

gbp prices

Offer price:

£56.25

RRP:

£71.88

eur prices

Offer price:

€25.25

RRP:

€27.89

gbp prices

Offer price:

£19.00

RRP:

£20.97

eur prices

Offer price:

€31.60

RRP:

€34.53

gbp prices

Offer price:

£23.75

RRP:

£25.96

eur prices

Offer price:

€21.60

RRP:

€26.55

gbp prices

Offer price:

£16.25

RRP:

£19.96

eur prices

Offer price:

€14.95

RRP:

€19.94

gbp prices

Offer price:

£11.25

RRP:

£14.99

eur prices

Offer price:

€11.65

RRP:

€15.93

gbp prices

Offer price:

£8.75

RRP:

£11.98

eur prices

Offer price:

€8.65

RRP:

€10.63

gbp prices

Offer price:

£6.50

RRP:

£7.99
See more

Books under €6
Books under €6
eur prices

Offer price:

€3.50

RRP:

€3.98

gbp prices

Offer price:

£2.65

RRP:

£2.99

eur prices

Offer price:

€5.60

RRP:

€7.97

gbp prices

Offer price:

£4.20

RRP:

£5.99

eur prices

Offer price:

€6.00

RRP:

€6.64

gbp prices

Offer price:

£4.50

RRP:

£4.99

eur prices

Offer price:

€6.00

RRP:

€6.64

gbp prices

Offer price:

£4.50

RRP:

£4.99

eur prices

Offer price:

€5.60

RRP:

€7.97

gbp prices

Offer price:

£4.20

RRP:

£5.99

eur prices

Offer price:

€6.00

RRP:

€6.64

gbp prices

Offer price:

£4.50

RRP:

£4.99

eur prices

Offer price:

€6.00

RRP:

€6.64

gbp prices

Offer price:

£4.50

RRP:

£4.99

eur prices

Offer price:

€4.20

RRP:

€5.04

gbp prices

Offer price:

£3.15

RRP:

£3.79

eur prices

Offer price:

€6.00

RRP:

€6.64

gbp prices

Offer price:

£4.50

RRP:

£4.99

eur prices

Offer price:

€5.60

RRP:

€7.97

gbp prices

Offer price:

£4.20

RRP:

£5.99

eur prices

Offer price:

€4.00

RRP:

€4.58

gbp prices

Offer price:

£3.00

RRP:

£3.44

eur prices

Offer price:

€6.00

RRP:

€6.64

gbp prices

Offer price:

£4.50

RRP:

£4.99

eur prices

Offer price:

€6.00

RRP:

€6.64

gbp prices

Offer price:

£4.50

RRP:

£4.99

eur prices

Offer price:

€6.00

RRP:

€6.64

gbp prices

Offer price:

£4.50

RRP:

£4.99

eur prices

Offer price:

€4.65

RRP:

€5.46

gbp prices

Offer price:

£3.50

RRP:

£4.10

eur prices

Offer price:

€4.00

RRP:

€4.58

gbp prices

Offer price:

£3.00

RRP:

£3.44

eur prices

Offer price:

€4.65

RRP:

€5.31

gbp prices

Offer price:

£3.50

RRP:

£3.99

eur prices

Offer price:

€6.00

RRP:

€6.64

gbp prices

Offer price:

£4.50

RRP:

£4.99

eur prices

Offer price:

€3.20

RRP:

€3.66

gbp prices

Offer price:

£2.40

RRP:

£2.75

eur prices

Offer price:

€3.20

RRP:

€3.66

gbp prices

Offer price:

£2.40

RRP:

£2.75

eur prices

Offer price:

€6.00

RRP:

€6.64

gbp prices

Offer price:

£4.50

RRP:

£4.99

eur prices

Offer price:

€5.00

RRP:

€5.96

gbp prices

Offer price:

£3.75

RRP:

£4.48

eur prices

Offer price:

€4.00

RRP:

€4.58

gbp prices

Offer price:

£3.00

RRP:

£3.44

eur prices

Offer price:

€3.20

RRP:

€3.66

gbp prices

Offer price:

£2.40

RRP:

£2.75

eur prices

Offer price:

€6.00

RRP:

€6.64

gbp prices

Offer price:

£4.50

RRP:

£4.99

eur prices

Offer price:

€5.85

RRP:

€6.41

gbp prices

Offer price:

£4.40

RRP:

£4.82

eur prices

Offer price:

€6.00

RRP:

€6.64

gbp prices

Offer price:

£4.50

RRP:

£4.99
See more

Books to make them giggle
Books to make them giggle
eur prices

Offer price:

€5.60

RRP:

€7.97

gbp prices

Offer price:

£4.20

RRP:

£5.99

eur prices

Offer price:

€8.65

RRP:

€10.63

gbp prices

Offer price:

£6.50

RRP:

£7.99

eur prices

Offer price:

€8.65

RRP:

€10.63

gbp prices

Offer price:

£6.50

RRP:

£7.99

eur prices

Offer price:

€6.00

RRP:

€6.64

gbp prices

Offer price:

£4.50

RRP:

£4.99

eur prices

Offer price:

€8.65

RRP:

€10.63

gbp prices

Offer price:

£6.50

RRP:

£7.99

eur prices

Offer price:

€7.00

RRP:

€7.97

gbp prices

Offer price:

£5.25

RRP:

£5.99

eur prices

Offer price:

€8.00

RRP:

€9.30

gbp prices

Offer price:

£6.50

RRP:

£6.99

eur prices

Offer price:

€8.00

RRP:

€9.30

gbp prices

Offer price:

£6.00

RRP:

£6.99

eur prices

Offer price:

€7.00

RRP:

€7.97

gbp prices

Offer price:

£5.25

RRP:

£5.99

eur prices

Offer price:

€25.25

RRP:

€29.28

gbp prices

Offer price:

£19.00

RRP:

£22.01

eur prices

Offer price:

€6.00

RRP:

€6.64

gbp prices

Offer price:

£4.50

RRP:

£4.99

eur prices

Offer price:

€8.65

RRP:

€10.63

gbp prices

Offer price:

£6.50

RRP:

£7.99

eur prices

Offer price:

€7.00

RRP:

€7.97

gbp prices

Offer price:

£5.25

RRP:

£5.99

eur prices

Offer price:

€7.00

RRP:

€7.97

gbp prices

Offer price:

£5.25

RRP:

£5.99

eur prices

Offer price:

€4.65

RRP:

€5.46

gbp prices

Offer price:

£3.50

RRP:

£4.10

eur prices

Offer price:

€7.00

RRP:

€7.97

gbp prices

Offer price:

£5.25

RRP:

£5.99

eur prices

Offer price:

€3.20

RRP:

€3.66

gbp prices

Offer price:

£2.40

RRP:

£2.75

eur prices

Offer price:

€8.00

RRP:

€9.30

gbp prices

Offer price:

£6.00

RRP:

£6.99

eur prices

Offer price:

€7.00

RRP:

€7.97

gbp prices

Offer price:

£5.25

RRP:

£5.99

eur prices

Offer price:

€25.25

RRP:

€27.89

gbp prices

Offer price:

£19.00

RRP:

£20.97

eur prices

Offer price:

€8.00

RRP:

€9.30

gbp prices

Offer price:

£6.00

RRP:

£6.99

eur prices

Offer price:

€46.55

RRP:

€55.78

gbp prices

Offer price:

£35.00

RRP:

£41.94

eur prices

Offer price:

€24.25

RRP:

€27.88

gbp prices

Offer price:

£18.25

RRP:

£20.96

eur prices

Offer price:

€7.00

RRP:

€7.97

gbp prices

Offer price:

£5.25

RRP:

£5.99

eur prices

Offer price:

€42.55

RRP:

€46.46

gbp prices

Offer price:

£32.00

RRP:

£34.93
See more

Building reading skills
Building reading skills
eur prices

Offer price:

€8.65

RRP:

€10.63

gbp prices

Offer price:

£6.50

RRP:

£7.99

eur prices

Offer price:

€6.00

RRP:

€6.64

gbp prices

Offer price:

£4.50

RRP:

£4.99

eur prices

Offer price:

€21.60

RRP:

€23.90

gbp prices

Offer price:

£16.25

RRP:

£17.97

eur prices

Offer price:

€6.00

RRP:

€6.64

gbp prices

Offer price:

£4.50

RRP:

£4.99

eur prices

Offer price:

€6.00

RRP:

€6.64

gbp prices

Offer price:

£4.50

RRP:

£4.99

eur prices

Offer price:

€8.65

RRP:

€10.63

gbp prices

Offer price:

£6.50

RRP:

£7.99

eur prices

Offer price:

€4.00

RRP:

€4.58

gbp prices

Offer price:

£3.00

RRP:

£3.44

eur prices

Offer price:

€4.65

RRP:

€5.31

gbp prices

Offer price:

£3.50

RRP:

£3.99

eur prices

Offer price:

€3.20

RRP:

€3.66

gbp prices

Offer price:

£2.40

RRP:

£2.75

eur prices

Offer price:

€42.55

RRP:

€46.46

gbp prices

Offer price:

£32.00

RRP:

£34.93

eur prices

Offer price:

€38.25

RRP:

€42.51

gbp prices

Offer price:

£28.75

RRP:

£31.96

eur prices

Offer price:

€11.65

RRP:

€15.93

gbp prices

Offer price:

£8.75

RRP:

£11.98

eur prices

Offer price:

€74.80

RRP:

€95.60

gbp prices

Offer price:

£56.25

RRP:

£71.88

eur prices

Offer price:

€49.90

RRP:

€64.12

gbp prices

Offer price:

£37.50

RRP:

£48.21

eur prices

Offer price:

€14.95

RRP:

€19.91

gbp prices

Offer price:

£11.25

RRP:

£14.97

eur prices

Offer price:

€28.95

RRP:

€31.87

gbp prices

Offer price:

£21.75

RRP:

£23.96

eur prices

Offer price:

€21.60

RRP:

€23.90

gbp prices

Offer price:

£16.25

RRP:

£17.97
See more

Books for animal lovers
Books for animal lovers
eur prices

Offer price:

€7.00

RRP:

€7.97

gbp prices

Offer price:

£5.25

RRP:

£5.99

eur prices

Offer price:

€8.00

RRP:

€9.30

gbp prices

Offer price:

£6.00

RRP:

£6.99

eur prices

Offer price:

€8.00

RRP:

€9.30

gbp prices

Offer price:

£6.00

RRP:

£6.99

eur prices

Offer price:

€8.65

RRP:

€10.63

gbp prices

Offer price:

£6.50

RRP:

£7.99

eur prices

Offer price:

€8.25

RRP:

€13.76

gbp prices

Offer price:

£6.20

RRP:

£10.34

eur prices

Offer price:

€7.00

RRP:

€7.97

gbp prices

Offer price:

£5.25

RRP:

£5.99

eur prices

Offer price:

€7.00

RRP:

€7.97

gbp prices

Offer price:

£5.25

RRP:

£5.99

eur prices

Offer price:

€8.00

RRP:

€9.30

gbp prices

Offer price:

£6.50

RRP:

£6.99

eur prices

Offer price:

€8.00

RRP:

€9.30

gbp prices

Offer price:

£6.00

RRP:

£6.99

eur prices

Offer price:

€7.00

RRP:

€7.97

gbp prices

Offer price:

£5.25

RRP:

£5.99

eur prices

Offer price:

€7.00

RRP:

€7.97

gbp prices

Offer price:

£5.25

RRP:

£5.99

eur prices

Offer price:

€25.25

RRP:

€29.28

gbp prices

Offer price:

£19.00

RRP:

£22.01

eur prices

Offer price:

€6.00

RRP:

€6.64

gbp prices

Offer price:

£4.50

RRP:

£4.99

eur prices

Offer price:

€5.60

RRP:

€7.97

gbp prices

Offer price:

£4.20

RRP:

£5.99

eur prices

Offer price:

€4.00

RRP:

€4.58

gbp prices

Offer price:

£3.00

RRP:

£3.44

eur prices

Offer price:

€6.00

RRP:

€6.64

gbp prices

Offer price:

£4.50

RRP:

£4.99

eur prices

Offer price:

€6.00

RRP:

€6.64

gbp prices

Offer price:

£4.50

RRP:

£4.99

eur prices

Offer price:

€7.00

RRP:

€7.97

gbp prices

Offer price:

£5.25

RRP:

£5.99

eur prices

Offer price:

€4.65

RRP:

€5.31

gbp prices

Offer price:

£3.50

RRP:

£3.99

eur prices

Offer price:

€3.20

RRP:

€3.66

gbp prices

Offer price:

£2.40

RRP:

£2.75

eur prices

Offer price:

€8.00

RRP:

€9.30

gbp prices

Offer price:

£6.00

RRP:

£6.99

eur prices

Offer price:

€7.00

RRP:

€7.97

gbp prices

Offer price:

£5.25

RRP:

£5.99

eur prices

Offer price:

€7.00

RRP:

€7.97

gbp prices

Offer price:

£5.25

RRP:

£5.99

eur prices

Offer price:

€25.25

RRP:

€27.89

gbp prices

Offer price:

£19.00

RRP:

£20.97

eur prices

Offer price:

€8.00

RRP:

€9.30

gbp prices

Offer price:

£6.00

RRP:

£6.99
See more

Award-winning authors and illustrators
Award-winning authors and illustrators
eur prices

Offer price:

€8.00

RRP:

€9.30

gbp prices

Offer price:

£6.00

RRP:

£6.99

eur prices

Offer price:

€8.00

RRP:

€9.30

gbp prices

Offer price:

£6.00

RRP:

£6.99

eur prices

Offer price:

€8.65

RRP:

€10.63

gbp prices

Offer price:

£6.50

RRP:

£7.99

eur prices

Offer price:

€8.65

RRP:

€10.63

gbp prices

Offer price:

£6.50

RRP:

£7.99

eur prices

Offer price:

€6.00

RRP:

€6.64

gbp prices

Offer price:

£4.50

RRP:

£4.99

eur prices

Offer price:

€8.65

RRP:

€10.63

gbp prices

Offer price:

£6.50

RRP:

£7.99

eur prices

Offer price:

€7.00

RRP:

€7.97

gbp prices

Offer price:

£5.25

RRP:

£5.99

eur prices

Offer price:

€8.00

RRP:

€9.30

gbp prices

Offer price:

£6.00

RRP:

£6.99

eur prices

Offer price:

€6.00

RRP:

€6.64

gbp prices

Offer price:

£4.50

RRP:

£4.99

eur prices

Offer price:

€8.65

RRP:

€10.63

gbp prices

Offer price:

£6.50

RRP:

£7.99

eur prices

Offer price:

€6.40

RRP:

€9.30

gbp prices

Offer price:

£4.80

RRP:

£6.99

eur prices

Offer price:

€6.00

RRP:

€6.64

gbp prices

Offer price:

£4.50

RRP:

£4.99

eur prices

Offer price:

€7.00

RRP:

€7.97

gbp prices

Offer price:

£5.25

RRP:

£5.99

eur prices

Offer price:

€14.95

RRP:

€19.94

gbp prices

Offer price:

£11.25

RRP:

£14.99

eur prices

Offer price:

€8.00

RRP:

€9.30

gbp prices

Offer price:

£6.00

RRP:

£6.99

eur prices

Offer price:

€7.00

RRP:

€7.97

gbp prices

Offer price:

£5.25

RRP:

£5.99

eur prices

Offer price:

€8.00

RRP:

€9.30

gbp prices

Offer price:

£6.00

RRP:

£6.99

eur prices

Offer price:

€46.55

RRP:

€55.78

gbp prices

Offer price:

£35.00

RRP:

£41.94

eur prices

Offer price:

€24.25

RRP:

€27.88

gbp prices

Offer price:

£18.25

RRP:

£20.96

eur prices

Offer price:

€7.00

RRP:

€7.97

gbp prices

Offer price:

£5.25

RRP:

£5.99

eur prices

Offer price:

€8.00

RRP:

€9.30

gbp prices

Offer price:

£6.00

RRP:

£6.99

eur prices

Offer price:

€42.55

RRP:

€46.46

gbp prices

Offer price:

£32.00

RRP:

£34.93

eur prices

Offer price:

€8.00

RRP:

€9.30

gbp prices

Offer price:

£6.00

RRP:

£6.99

eur prices

Offer price:

€8.00

RRP:

€9.30

gbp prices

Offer price:

£6.00

RRP:

£6.99

eur prices

Offer price:

€8.00

RRP:

€9.30

gbp prices

Offer price:

£6.00

RRP:

£6.99