Book Club XD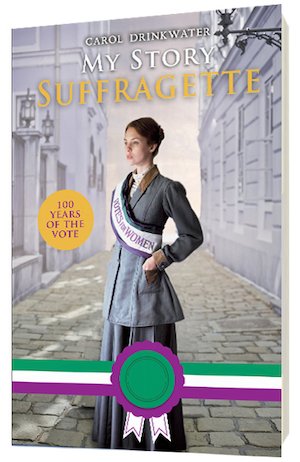 From classic reads and TV tie-ins to reading schemes and maths revision guides, our Book Club XD range is carefully chosen by our team of experts to offer the very best books at fantastic discounts for children aged 7 to 11 years.
Our latest Book Club is full of amazing value book packs, brand new bestsellers and fantastic fiction. Don't forget that every order over £10 will earn your school 20% in free books – so you can keep reading all year round.
One of our favourite books currently on offer is
My Story: Suffragette
, the brand new book by actress and author Carol Drinkwater. Celebrate the 100th anniversary of some women gaining the right to vote for the first time in the UK by finding out more about the Suffragette movement.
See more

Books under €6
Books under €6
eur prices

Offer price:

€6.00

RRP:

€6.64

gbp prices

Offer price:

£4.50

RRP:

£4.99

eur prices

Offer price:

€3.50

RRP:

€3.98

gbp prices

Offer price:

£2.65

RRP:

£2.99

eur prices

Offer price:

€5.60

RRP:

€7.97

gbp prices

Offer price:

£4.20

RRP:

£5.99

eur prices

Offer price:

€6.00

RRP:

€6.64

gbp prices

Offer price:

£4.50

RRP:

£4.99

eur prices

Offer price:

€6.00

RRP:

€6.64

gbp prices

Offer price:

£4.50

RRP:

£4.99

eur prices

Offer price:

€5.60

RRP:

€7.97

gbp prices

Offer price:

£4.20

RRP:

£5.99

eur prices

Offer price:

€6.00

RRP:

€6.64

gbp prices

Offer price:

£4.50

RRP:

£4.99

eur prices

Offer price:

€4.00

RRP:

€4.58

gbp prices

Offer price:

£3.00

RRP:

£3.44

eur prices

Offer price:

€6.00

RRP:

€6.64

gbp prices

Offer price:

£4.50

RRP:

£4.99

eur prices

Offer price:

€5.60

RRP:

€7.97

gbp prices

Offer price:

£4.20

RRP:

£5.99

eur prices

Offer price:

€5.85

RRP:

€6.41

gbp prices

Offer price:

£4.40

RRP:

£4.82

eur prices

Offer price:

€5.85

RRP:

€6.41

gbp prices

Offer price:

£4.40

RRP:

£4.82

eur prices

Offer price:

€4.00

RRP:

€4.58

gbp prices

Offer price:

£3.00

RRP:

£3.44

eur prices

Offer price:

€6.00

RRP:

€6.64

gbp prices

Offer price:

£4.50

RRP:

£4.99

eur prices

Offer price:

€4.65

RRP:

€5.49

gbp prices

Offer price:

£3.50

RRP:

£4.13

eur prices

Offer price:

€6.00

RRP:

€6.64

gbp prices

Offer price:

£4.50

RRP:

£4.99

eur prices

Offer price:

€6.00

RRP:

€6.64

gbp prices

Offer price:

£4.50

RRP:

£4.99

eur prices

Offer price:

€6.00

RRP:

€6.64

gbp prices

Offer price:

£4.50

RRP:

£4.99

eur prices

Offer price:

€4.00

RRP:

€4.58

gbp prices

Offer price:

£3.00

RRP:

£3.44

eur prices

Offer price:

€4.00

RRP:

€4.58

gbp prices

Offer price:

£3.00

RRP:

£3.44

eur prices

Offer price:

€4.65

RRP:

€5.31

gbp prices

Offer price:

£3.50

RRP:

£3.99

eur prices

Offer price:

€3.50

RRP:

€4.54

gbp prices

Offer price:

£2.65

RRP:

£3.41

eur prices

Offer price:

€3.20

RRP:

€3.66

gbp prices

Offer price:

£2.40

RRP:

£2.75

eur prices

Offer price:

€3.70

RRP:

€5.31

gbp prices

Offer price:

£2.80

RRP:

£3.99

eur prices

Offer price:

€3.20

RRP:

€3.66

gbp prices

Offer price:

£2.40

RRP:

£2.75

eur prices

Offer price:

€4.00

RRP:

€4.58

gbp prices

Offer price:

£3.00

RRP:

£3.44

eur prices

Offer price:

€3.20

RRP:

€3.66

gbp prices

Offer price:

£2.40

RRP:

£2.75

eur prices

Offer price:

€4.00

RRP:

€4.58

gbp prices

Offer price:

£3.00

RRP:

£3.44

eur prices

Offer price:

€4.65

RRP:

€5.49

gbp prices

Offer price:

£3.50

RRP:

£4.13
See more

Read the classics
Read the classics
eur prices

Offer price:

€8.65

RRP:

€10.63

gbp prices

Offer price:

£6.50

RRP:

£7.99

eur prices

Offer price:

€66.50

RRP:

€88.98

gbp prices

Offer price:

£50.00

RRP:

£66.90

eur prices

Offer price:

€8.00

RRP:

€9.30

gbp prices

Offer price:

£6.00

RRP:

£6.99

eur prices

Offer price:

€8.00

RRP:

€9.30

gbp prices

Offer price:

£6.00

RRP:

£6.99

eur prices

Offer price:

€8.00

RRP:

€9.30

gbp prices

Offer price:

£6.50

RRP:

£6.99

eur prices

Offer price:

€8.00

RRP:

€9.30

gbp prices

Offer price:

£6.00

RRP:

£6.99

eur prices

Offer price:

€8.65

RRP:

€10.63

gbp prices

Offer price:

£6.50

RRP:

£7.99

eur prices

Offer price:

€8.00

RRP:

€9.30

gbp prices

Offer price:

£6.00

RRP:

£6.99

eur prices

Offer price:

€46.55

RRP:

€55.77

gbp prices

Offer price:

£35.00

RRP:

£41.93

eur prices

Offer price:

€7.00

RRP:

€7.97

gbp prices

Offer price:

£5.25

RRP:

£5.99

eur prices

Offer price:

€3.70

RRP:

€5.31

gbp prices

Offer price:

£2.80

RRP:

£3.99

eur prices

Offer price:

€24.25

RRP:

€27.88

gbp prices

Offer price:

£18.25

RRP:

£20.96

eur prices

Offer price:

€8.00

RRP:

€9.30

gbp prices

Offer price:

£6.00

RRP:

£6.99

eur prices

Offer price:

€24.95

RRP:

€31.88

gbp prices

Offer price:

£18.75

RRP:

£23.97

eur prices

Offer price:

€36.60

RRP:

€39.90

gbp prices

Offer price:

£27.50

RRP:

£30.00

eur prices

Offer price:

€38.25

RRP:

€42.51

gbp prices

Offer price:

£28.75

RRP:

£31.96

eur prices

Offer price:

€8.00

RRP:

€9.30

gbp prices

Offer price:

£6.00

RRP:

£6.99

eur prices

Offer price:

€81.45

RRP:

€106.19

gbp prices

Offer price:

£61.25

RRP:

£79.84

eur prices

Offer price:

€29.60

RRP:

€33.18

gbp prices

Offer price:

£22.25

RRP:

£24.95

eur prices

Offer price:

€7.00

RRP:

€7.97

gbp prices

Offer price:

£5.25

RRP:

£5.99

eur prices

Price:

€63.20

gbp prices

Price:

£47.50

eur prices

Price:

€7.00

gbp prices

Price:

£5.25
See more

Film and TV favourites
Film and TV favourites
eur prices

Offer price:

€11.65

RRP:

€15.91

gbp prices

Offer price:

£8.75

RRP:

£11.96

eur prices

Offer price:

€10.00

RRP:

€13.29

gbp prices

Offer price:

£7.50

RRP:

£9.99

eur prices

Offer price:

€13.65

RRP:

€17.28

gbp prices

Offer price:

£10.25

RRP:

£12.99

eur prices

Offer price:

€8.00

RRP:

€9.30

gbp prices

Offer price:

£6.00

RRP:

£6.99

eur prices

Offer price:

€66.50

RRP:

€79.71

gbp prices

Offer price:

£50.00

RRP:

£59.93

eur prices

Offer price:

€8.00

RRP:

€9.30

gbp prices

Offer price:

£6.00

RRP:

£6.99

eur prices

Offer price:

€6.00

RRP:

€6.64

gbp prices

Offer price:

£4.50

RRP:

£4.99

eur prices

Offer price:

€74.80

RRP:

€92.97

gbp prices

Offer price:

£56.25

RRP:

£69.90

eur prices

Offer price:

€74.80

RRP:

€95.60

gbp prices

Offer price:

£56.25

RRP:

£71.88

eur prices

Offer price:

€8.00

RRP:

€9.30

gbp prices

Offer price:

£6.00

RRP:

£6.99

eur prices

Offer price:

€42.55

RRP:

€46.48

gbp prices

Offer price:

£32.00

RRP:

£34.95

eur prices

Offer price:

€53.20

RRP:

€111.56

gbp prices

Offer price:

£40.00

RRP:

£83.88

eur prices

Offer price:

€3.20

RRP:

€3.66

gbp prices

Offer price:

£2.40

RRP:

£2.75

eur prices

Offer price:

€7.00

RRP:

€7.97

gbp prices

Offer price:

£5.25

RRP:

£5.99

eur prices

Offer price:

€8.00

RRP:

€9.30

gbp prices

Offer price:

£6.00

RRP:

£6.99

eur prices

Offer price:

€24.95

RRP:

€31.88

gbp prices

Offer price:

£18.75

RRP:

£23.97

eur prices

Offer price:

€63.20

RRP:

€146.01

gbp prices

Offer price:

£47.50

RRP:

£109.78

eur prices

Offer price:

€7.00

RRP:

€7.97

gbp prices

Offer price:

£5.25

RRP:

£5.99

eur prices

Offer price:

€53.20

RRP:

€120.86

gbp prices

Offer price:

£40.00

RRP:

£90.87

eur prices

Offer price:

€33.25

RRP:

€37.19

gbp prices

Offer price:

£25.00

RRP:

£27.96

eur prices

Price:

€9.30

gbp prices

Price:

£7.00

eur prices

Price:

€33.25

gbp prices

Price:

£25.00

eur prices

Price:

€8.65

gbp prices

Price:

£6.50
See more

Fascinating facts
Fascinating facts
eur prices

Offer price:

€14.95

RRP:

€26.59

gbp prices

Offer price:

£11.25

RRP:

£19.99

eur prices

Offer price:

€8.00

RRP:

€9.30

gbp prices

Offer price:

£6.00

RRP:

£6.99

eur prices

Offer price:

€8.00

RRP:

€9.30

gbp prices

Offer price:

£6.00

RRP:

£6.99

eur prices

Offer price:

€7.00

RRP:

€7.97

gbp prices

Offer price:

£5.25

RRP:

£5.99

eur prices

Offer price:

€10.00

RRP:

€13.29

gbp prices

Offer price:

£7.50

RRP:

£9.99

eur prices

Offer price:

€8.00

RRP:

€9.30

gbp prices

Offer price:

£6.00

RRP:

£6.99

eur prices

Offer price:

€9.30

RRP:

€11.96

gbp prices

Offer price:

£7.00

RRP:

£8.99

eur prices

Offer price:

€21.60

RRP:

€23.90

gbp prices

Offer price:

£16.25

RRP:

£17.97

eur prices

Offer price:

€7.00

RRP:

€7.97

gbp prices

Offer price:

£5.25

RRP:

£5.99

eur prices

Offer price:

€7.00

RRP:

€7.97

gbp prices

Offer price:

£5.25

RRP:

£5.99

eur prices

Offer price:

€25.25

RRP:

€29.28

gbp prices

Offer price:

£19.00

RRP:

£22.01

eur prices

Offer price:

€7.00

RRP:

€7.97

gbp prices

Offer price:

£5.25

RRP:

£5.99

eur prices

Offer price:

€5.60

RRP:

€7.97

gbp prices

Offer price:

£4.20

RRP:

£5.99

eur prices

Offer price:

€7.00

RRP:

€7.97

gbp prices

Offer price:

£5.25

RRP:

£5.99

eur prices

Offer price:

€53.20

RRP:

€111.56

gbp prices

Offer price:

£40.00

RRP:

£83.88

eur prices

Offer price:

€7.00

RRP:

€7.97

gbp prices

Offer price:

£5.25

RRP:

£5.99

eur prices

Offer price:

€6.00

RRP:

€6.64

gbp prices

Offer price:

£4.50

RRP:

£4.99

eur prices

Offer price:

€8.00

RRP:

€9.30

gbp prices

Offer price:

£6.00

RRP:

£6.99

eur prices

Offer price:

€7.00

RRP:

€8.25

gbp prices

Offer price:

£5.25

RRP:

£6.20

eur prices

Offer price:

€13.65

RRP:

€17.28

gbp prices

Offer price:

£10.25

RRP:

£12.99

eur prices

Offer price:

€4.65

RRP:

€5.49

gbp prices

Offer price:

£3.50

RRP:

£4.13

eur prices

Offer price:

€69.85

RRP:

€143.40

gbp prices

Offer price:

£52.50

RRP:

£107.82

eur prices

Offer price:

€6.00

RRP:

€6.64

gbp prices

Offer price:

£4.50

RRP:

£4.99

eur prices

Offer price:

€8.00

RRP:

€9.30

gbp prices

Offer price:

£6.00

RRP:

£6.99

eur prices

Offer price:

€8.00

RRP:

€9.30

gbp prices

Offer price:

£6.00

RRP:

£6.99

eur prices

Offer price:

€7.00

RRP:

€7.97

gbp prices

Offer price:

£5.25

RRP:

£5.99

eur prices

Offer price:

€36.60

RRP:

€39.83

gbp prices

Offer price:

£27.50

RRP:

£29.95

eur prices

Offer price:

€4.00

RRP:

€4.58

gbp prices

Offer price:

£3.00

RRP:

£3.44

eur prices

Offer price:

€8.00

RRP:

€9.30

gbp prices

Offer price:

£6.00

RRP:

£6.99
See more

Books for animal lovers
Books for animal lovers
eur prices

Offer price:

€8.65

RRP:

€14.62

gbp prices

Offer price:

£6.50

RRP:

£10.99

eur prices

Offer price:

€7.00

RRP:

€11.96

gbp prices

Offer price:

£5.25

RRP:

£8.99

eur prices

Offer price:

€7.00

RRP:

€7.97

gbp prices

Offer price:

£5.25

RRP:

£5.99

eur prices

Offer price:

€8.65

RRP:

€10.63

gbp prices

Offer price:

£6.50

RRP:

£7.99

eur prices

Offer price:

€7.00

RRP:

€8.25

gbp prices

Offer price:

£5.25

RRP:

£6.20

eur prices

Offer price:

€7.00

RRP:

€7.97

gbp prices

Offer price:

£5.25

RRP:

£5.99

eur prices

Offer price:

€7.00

RRP:

€7.97

gbp prices

Offer price:

£5.25

RRP:

£5.99

eur prices

Offer price:

€8.00

RRP:

€9.30

gbp prices

Offer price:

£6.50

RRP:

£6.99

eur prices

Offer price:

€7.00

RRP:

€7.97

gbp prices

Offer price:

£5.25

RRP:

£5.99

eur prices

Offer price:

€7.00

RRP:

€7.97

gbp prices

Offer price:

£5.25

RRP:

£5.99

eur prices

Offer price:

€25.25

RRP:

€29.28

gbp prices

Offer price:

£19.00

RRP:

£22.01

eur prices

Offer price:

€7.00

RRP:

€7.97

gbp prices

Offer price:

£5.25

RRP:

£5.99

eur prices

Offer price:

€7.00

RRP:

€7.97

gbp prices

Offer price:

£5.25

RRP:

£5.99

eur prices

Offer price:

€7.00

RRP:

€7.97

gbp prices

Offer price:

£5.25

RRP:

£5.99

eur prices

Offer price:

€6.00

RRP:

€6.64

gbp prices

Offer price:

£4.50

RRP:

£4.99

eur prices

Offer price:

€5.60

RRP:

€7.97

gbp prices

Offer price:

£4.20

RRP:

£5.99

eur prices

Offer price:

€4.00

RRP:

€4.58

gbp prices

Offer price:

£3.00

RRP:

£3.44

eur prices

Offer price:

€53.20

RRP:

€111.56

gbp prices

Offer price:

£40.00

RRP:

£83.88

eur prices

Offer price:

€7.00

RRP:

€8.25

gbp prices

Offer price:

£5.25

RRP:

£6.20

eur prices

Offer price:

€6.00

RRP:

€6.64

gbp prices

Offer price:

£4.50

RRP:

£4.99

eur prices

Offer price:

€7.00

RRP:

€7.97

gbp prices

Offer price:

£5.25

RRP:

£5.99

eur prices

Offer price:

€7.00

RRP:

€7.97

gbp prices

Offer price:

£5.25

RRP:

£5.99

eur prices

Offer price:

€6.65

RRP:

€7.33

gbp prices

Offer price:

£5.00

RRP:

£5.51

eur prices

Offer price:

€4.00

RRP:

€4.58

gbp prices

Offer price:

£3.00

RRP:

£3.44

eur prices

Offer price:

€8.00

RRP:

€9.30

gbp prices

Offer price:

£6.00

RRP:

£6.99

eur prices

Offer price:

€8.00

RRP:

€9.30

gbp prices

Offer price:

£6.00

RRP:

£6.99

eur prices

Offer price:

€4.65

RRP:

€5.31

gbp prices

Offer price:

£3.50

RRP:

£3.99

eur prices

Offer price:

€33.25

RRP:

€39.82

gbp prices

Offer price:

£25.00

RRP:

£29.94

eur prices

Offer price:

€24.25

RRP:

€27.46

gbp prices

Offer price:

£18.25

RRP:

£20.65
See more

Award-winning authors and illustrators
Award-winning authors and illustrators
eur prices

Offer price:

€8.65

RRP:

€14.62

gbp prices

Offer price:

£6.50

RRP:

£10.99

eur prices

Offer price:

€13.65

RRP:

€17.28

gbp prices

Offer price:

£10.25

RRP:

£12.99

eur prices

Offer price:

€7.00

RRP:

€11.96

gbp prices

Offer price:

£5.25

RRP:

£8.99

eur prices

Offer price:

€8.65

RRP:

€10.63

gbp prices

Offer price:

£6.50

RRP:

£7.99

eur prices

Offer price:

€6.00

RRP:

€6.64

gbp prices

Offer price:

£4.50

RRP:

£4.99

eur prices

Offer price:

€66.50

RRP:

€88.98

gbp prices

Offer price:

£50.00

RRP:

£66.90

eur prices

Offer price:

€66.50

RRP:

€79.71

gbp prices

Offer price:

£50.00

RRP:

£59.93

eur prices

Offer price:

€10.00

RRP:

€13.29

gbp prices

Offer price:

£7.50

RRP:

£9.99

eur prices

Offer price:

€9.30

RRP:

€11.96

gbp prices

Offer price:

£7.00

RRP:

£8.99

eur prices

Offer price:

€8.00

RRP:

€9.30

gbp prices

Offer price:

£6.00

RRP:

£6.99

eur prices

Offer price:

€8.00

RRP:

€9.30

gbp prices

Offer price:

£6.00

RRP:

£6.99

eur prices

Offer price:

€8.00

RRP:

€9.30

gbp prices

Offer price:

£6.00

RRP:

£6.99

eur prices

Offer price:

€74.80

RRP:

€92.97

gbp prices

Offer price:

£56.25

RRP:

£69.90

eur prices

Offer price:

€8.00

RRP:

€9.30

gbp prices

Offer price:

£6.00

RRP:

£6.99

eur prices

Offer price:

€6.00

RRP:

€6.64

gbp prices

Offer price:

£4.50

RRP:

£4.99

eur prices

Offer price:

€8.00

RRP:

€9.30

gbp prices

Offer price:

£6.00

RRP:

£6.99

eur prices

Offer price:

€74.80

RRP:

€95.60

gbp prices

Offer price:

£56.25

RRP:

£71.88

eur prices

Offer price:

€8.65

RRP:

€10.63

gbp prices

Offer price:

£6.50

RRP:

£7.99

eur prices

Offer price:

€8.00

RRP:

€9.30

gbp prices

Offer price:

£6.00

RRP:

£6.99

eur prices

Offer price:

€42.55

RRP:

€46.48

gbp prices

Offer price:

£32.00

RRP:

£34.95

eur prices

Offer price:

€53.20

RRP:

€111.56

gbp prices

Offer price:

£40.00

RRP:

£83.88

eur prices

Offer price:

€38.25

RRP:

€42.51

gbp prices

Offer price:

£28.75

RRP:

£31.96

eur prices

Offer price:

€7.00

RRP:

€7.97

gbp prices

Offer price:

£5.25

RRP:

£5.99

eur prices

Offer price:

€69.85

RRP:

€143.40

gbp prices

Offer price:

£52.50

RRP:

£107.82

eur prices

Offer price:

€53.20

RRP:

€111.56

gbp prices

Offer price:

£40.00

RRP:

£83.88

eur prices

Offer price:

€8.00

RRP:

€9.30

gbp prices

Offer price:

£6.00

RRP:

£6.99

eur prices

Offer price:

€8.00

RRP:

€9.30

gbp prices

Offer price:

£6.00

RRP:

£6.99

eur prices

Offer price:

€46.55

RRP:

€55.77

gbp prices

Offer price:

£35.00

RRP:

£41.93

eur prices

Offer price:

€63.20

RRP:

€74.37

gbp prices

Offer price:

£47.50

RRP:

£55.92