We are continuing to fulfil all orders whilst rigorously following the safety advice of the government and Public Health England but due to the current situation you may experience longer delivery times than usual. If your delivery is going to a school and it's closed or you need to make any adjustments to your delivery please contact us at intschool@scholastic.co.uk. Don't forget that you can also run your Book Club online. remove
Michael Terry
Biography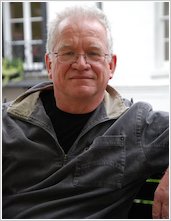 Michael Terry was born in 1947 in Folkestone on the Kent coast. After living abroad and moving around the country he arrived back in Folkestone, there he later went to Art College from 1964 to 1967 studying graphic design and illustration.
In 1967 he moved to London and worked in various design groups and advertising agencies as a designer and typographer.
In 1972 he became a freelance illustrator, working in advertising, editorial and publishing for clients including Cadbruies, Ikea, British Airways and Bloomsbury Children's Books. During this time Michael was awarded a D&AD award for illustration and a Mecanorma award for best poster illustration.
Since the mid 90's he has been equally successful as a writer and illustrator of children's books. His best known books include The Selfish Crocodile, Little Hotchpotch, Rhino's Horns and Here Comes the Crocodile. He has also illustrated numerous Dick King-Smith books for Puffin Books.
He now lives and works by the coast in Kent and has four sons.
Interview with Michael Terry
What are your favourite children's books and why?
The Lion, the Witch and the Wardrobe by C.S. Lewis. I heard it first on the radio when I was a boy. Why, because it created such pictures in my head.
Who are your favourite children's authors and why?
C.S. Lewis because of his imagination. Roald Dahl because of his humour.
Who or what was your biggest influence in deciding to become a writer?
The urge to write, to write a book of my own and then illustrate it. The creative possibilities in writing.
What inspired you to write your latest book?
Rhino's Horns: looking at one rhino's horns in comparison to others.
What's the best thing you've ever written?
Rhino's Horns
What is your favourite colour?
Red
What is your favourite food and worst?
My favourite food is a Sunday roast or Indian meal, any cooked meal. My worst is salads!!
Do you have a pet?
No. Apart from the odd spider in the corners of my studio!
What subject did you enjoy most at school… and least?
The subject I enjoyed most was art. The least was English/Maths/football.
What is your favourite film?
Difficult! I have quite a few, one of them being Gladiator. I also love science fiction films.
What music do you like?
Contemporary jazz, Beatles, Led Zeppelin, REM, classical, a bit of a mix really.
If you hadn't been an author, what would you have been?
I am an illustrator first then author second. I did want to be a farmer when I was at school. Being a palaeontologist (studying dinosaurs).
How long does it take you to write a book?
That's difficult to say. It can add up to quite a few hours.
How long have you been writing books?
About three years writing. Six years illustrating children's books. And thirty years as an illustrator.
Where do you get your ideas from?
Being an illustrator I visualise my ideas. Ideas usually just come to me, something sparks them off.