Teen Book Club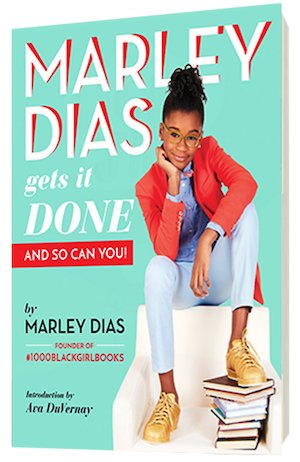 Check out the latest Teen Book Club range to find your next favourite read. The newest and best YA fiction and non-fiction at fantastic discounts.
Are you looking for a gripping new series to get into? Or perhaps some fun non-fiction? Our latest Book Club has it all! Don't forget that every order over £10 will earn your school 20% in free books – so you can keep reading all year round.
One of our favourite books currently on offer is
Marley Dias Gets It Done
! Marley was only eleven when she started her #1000blackgirlbooks drive to promote fiction with black heroines – now you can read her first book, an incredible life/activism guide to help you change the world.
See more

The newest books for teens
The newest books for teens
eur prices

Price:

€9.30

gbp prices

Price:

£7.00

eur prices

Offer price:

€8.00

RRP:

€9.30

gbp prices

Offer price:

£6.00

RRP:

£6.99

eur prices

Offer price:

€8.00

RRP:

€9.30

gbp prices

Offer price:

£6.00

RRP:

£6.99

eur prices

Price:

€8.00

gbp prices

Price:

£6.00

eur prices

Price:

€8.65

gbp prices

Price:

£6.50

eur prices

Offer price:

€7.00

RRP:

€7.97

gbp prices

Offer price:

£5.25

RRP:

£5.99

eur prices

Offer price:

€8.00

RRP:

€9.30

gbp prices

Offer price:

£6.00

RRP:

£6.99

eur prices

Price:

€8.65

gbp prices

Price:

£6.50

eur prices

Price:

€8.65

gbp prices

Price:

£6.50

eur prices

Price:

€7.00

gbp prices

Price:

£5.25

eur prices

Price:

€10.00

gbp prices

Price:

£7.50

eur prices

Offer price:

€7.00

RRP:

€7.97

gbp prices

Offer price:

£5.25

RRP:

£5.99

eur prices

Price:

€8.65

gbp prices

Price:

£6.50

eur prices

Price:

€8.65

gbp prices

Price:

£6.50

eur prices

Price:

€8.65

gbp prices

Price:

£6.50

eur prices

Offer price:

€8.00

RRP:

€9.30

gbp prices

Offer price:

£6.00

RRP:

£6.99

eur prices

Offer price:

€8.00

RRP:

€9.30

gbp prices

Offer price:

£6.00

RRP:

£6.99

eur prices

Offer price:

€8.00

RRP:

€9.30

gbp prices

Offer price:

£6.00

RRP:

£6.99

eur prices

Offer price:

€8.00

RRP:

€9.30

gbp prices

Offer price:

£6.00

RRP:

£6.99

eur prices

Offer price:

€8.65

RRP:

€10.63

gbp prices

Offer price:

£6.50

RRP:

£7.99

eur prices

Price:

€8.00

gbp prices

Price:

£6.00

eur prices

Offer price:

€8.00

RRP:

€9.30

gbp prices

Offer price:

£6.00

RRP:

£6.99

eur prices

Offer price:

€8.00

RRP:

€9.30

gbp prices

Offer price:

£6.00

RRP:

£6.99

eur prices

Offer price:

€7.00

RRP:

€7.97

gbp prices

Offer price:

£5.25

RRP:

£5.99

eur prices

Price:

€8.00

gbp prices

Price:

£6.00

eur prices

Price:

€8.65

gbp prices

Price:

£6.50

eur prices

Price:

€8.65

gbp prices

Price:

£6.50

eur prices

Offer price:

€8.00

RRP:

€9.30

gbp prices

Offer price:

£6.00

RRP:

£6.99

eur prices

Price:

€8.65

gbp prices

Price:

£6.50
See more

Books to make you think
Books to make you think
eur prices

Offer price:

€8.65

RRP:

€10.63

gbp prices

Offer price:

£6.50

RRP:

£7.99

eur prices

Price:

€38.25

gbp prices

Price:

£28.75

eur prices

Price:

€8.65

gbp prices

Price:

£6.50

eur prices

Price:

€8.65

gbp prices

Price:

£6.50

eur prices

Price:

€8.65

gbp prices

Price:

£6.50
See more

Books to make them laugh
Books to make them laugh
eur prices

Offer price:

€13.65

RRP:

€17.28

gbp prices

Offer price:

£10.25

RRP:

£12.99

eur prices

Offer price:

€13.65

RRP:

€17.28

gbp prices

Offer price:

£10.25

RRP:

£12.99

eur prices

Offer price:

€74.80

RRP:

€92.97

gbp prices

Offer price:

£56.25

RRP:

£69.90

eur prices

Offer price:

€8.00

RRP:

€9.30

gbp prices

Offer price:

£6.00

RRP:

£6.99

eur prices

Offer price:

€8.00

RRP:

€9.30

gbp prices

Offer price:

£6.00

RRP:

£6.99

eur prices

Offer price:

€53.20

RRP:

€111.56

gbp prices

Offer price:

£40.00

RRP:

£83.88

eur prices

Offer price:

€7.00

RRP:

€7.97

gbp prices

Offer price:

£5.25

RRP:

£5.99

eur prices

Offer price:

€58.20

RRP:

€102.38

gbp prices

Offer price:

£43.75

RRP:

£76.98

eur prices

Offer price:

€63.20

RRP:

€74.37

gbp prices

Offer price:

£47.50

RRP:

£55.92

eur prices

Offer price:

€21.60

RRP:

€23.90

gbp prices

Offer price:

£16.25

RRP:

£17.97

eur prices

Offer price:

€7.00

RRP:

€7.97

gbp prices

Offer price:

£5.25

RRP:

£5.99

eur prices

Price:

€8.00

gbp prices

Price:

£6.00

eur prices

Offer price:

€8.00

RRP:

€9.30

gbp prices

Offer price:

£6.00

RRP:

£6.99

eur prices

Offer price:

€8.00

RRP:

€9.30

gbp prices

Offer price:

£6.00

RRP:

£6.99

eur prices

Offer price:

€74.80

RRP:

€111.56

gbp prices

Offer price:

£56.25

RRP:

£83.88

eur prices

Offer price:

€8.00

RRP:

€9.30

gbp prices

Offer price:

£6.00

RRP:

£6.99

eur prices

Offer price:

€13.65

RRP:

€17.28

gbp prices

Offer price:

£10.25

RRP:

£12.99

eur prices

Offer price:

€8.65

RRP:

€10.63

gbp prices

Offer price:

£6.50

RRP:

£7.99

eur prices

Offer price:

€8.00

RRP:

€9.30

gbp prices

Offer price:

£6.00

RRP:

£6.99

eur prices

Offer price:

€8.00

RRP:

€9.30

gbp prices

Offer price:

£6.00

RRP:

£6.99

eur prices

Offer price:

€53.20

RRP:

€120.86

gbp prices

Offer price:

£40.00

RRP:

£90.87

eur prices

Offer price:

€25.25

RRP:

€27.89

gbp prices

Offer price:

£19.00

RRP:

£20.97

eur prices

Offer price:

€53.20

RRP:

€63.73

gbp prices

Offer price:

£40.00

RRP:

£47.92

eur prices

Offer price:

€33.25

RRP:

€37.19

gbp prices

Offer price:

£25.00

RRP:

£27.96

eur prices

Price:

€46.55

gbp prices

Price:

£35.00

eur prices

Price:

€63.20

gbp prices

Price:

£47.50

eur prices

Price:

€31.60

gbp prices

Price:

£23.75

eur prices

Price:

€33.25

gbp prices

Price:

£25.00

eur prices

Price:

€74.80

gbp prices

Price:

£56.25
See more

Fascinating facts
Fascinating facts
eur prices

Offer price:

€14.95

RRP:

€26.59

gbp prices

Offer price:

£11.25

RRP:

£19.99

eur prices

Offer price:

€8.00

RRP:

€9.30

gbp prices

Offer price:

£6.00

RRP:

£6.99

eur prices

Offer price:

€9.30

RRP:

€11.96

gbp prices

Offer price:

£7.00

RRP:

£8.99

eur prices

Offer price:

€7.00

RRP:

€7.97

gbp prices

Offer price:

£5.25

RRP:

£5.99

eur prices

Offer price:

€6.00

RRP:

€6.64

gbp prices

Offer price:

£4.50

RRP:

£4.99

eur prices

Offer price:

€8.00

RRP:

€9.30

gbp prices

Offer price:

£6.00

RRP:

£6.99

eur prices

Offer price:

€4.65

RRP:

€5.49

gbp prices

Offer price:

£3.50

RRP:

£4.13

eur prices

Offer price:

€6.00

RRP:

€6.64

gbp prices

Offer price:

£4.50

RRP:

£4.99

eur prices

Offer price:

€8.00

RRP:

€9.30

gbp prices

Offer price:

£6.00

RRP:

£6.99

eur prices

Offer price:

€8.00

RRP:

€9.30

gbp prices

Offer price:

£6.00

RRP:

£6.99

eur prices

Offer price:

€36.60

RRP:

€39.83

gbp prices

Offer price:

£27.50

RRP:

£29.95

eur prices

Offer price:

€11.65

RRP:

€16.48

gbp prices

Offer price:

£8.75

RRP:

£12.39

eur prices

Offer price:

€9.30

RRP:

€11.96

gbp prices

Offer price:

£7.00

RRP:

£8.99

eur prices

Offer price:

€7.00

RRP:

€7.97

gbp prices

Offer price:

£5.25

RRP:

£5.99

eur prices

Offer price:

€36.60

RRP:

€39.83

gbp prices

Offer price:

£27.50

RRP:

£29.95

eur prices

Offer price:

€6.65

RRP:

€7.33

gbp prices

Offer price:

£5.00

RRP:

£5.51

eur prices

Offer price:

€33.25

RRP:

€37.19

gbp prices

Offer price:

£25.00

RRP:

£27.96

eur prices

Price:

€9.30

gbp prices

Price:

£7.00

eur prices

Price:

€13.65

gbp prices

Price:

£10.25

eur prices

Price:

€63.20

gbp prices

Price:

£47.50

eur prices

Price:

€9.30

gbp prices

Price:

£7.00

eur prices

Price:

€8.65

gbp prices

Price:

£6.50

eur prices

Price:

€13.65

gbp prices

Price:

£10.25
See more

Award-winning authors
Award-winning authors
eur prices

Offer price:

€13.65

RRP:

€17.28

gbp prices

Offer price:

£10.25

RRP:

£12.99

eur prices

Offer price:

€66.50

RRP:

€79.71

gbp prices

Offer price:

£50.00

RRP:

£59.93

eur prices

Offer price:

€10.00

RRP:

€13.29

gbp prices

Offer price:

£7.50

RRP:

£9.99

eur prices

Offer price:

€9.30

RRP:

€11.96

gbp prices

Offer price:

£7.00

RRP:

£8.99

eur prices

Offer price:

€8.00

RRP:

€9.30

gbp prices

Offer price:

£6.00

RRP:

£6.99

eur prices

Offer price:

€8.00

RRP:

€9.30

gbp prices

Offer price:

£6.00

RRP:

£6.99

eur prices

Offer price:

€8.00

RRP:

€9.30

gbp prices

Offer price:

£6.00

RRP:

£6.99

eur prices

Offer price:

€74.80

RRP:

€92.97

gbp prices

Offer price:

£56.25

RRP:

£69.90

eur prices

Offer price:

€8.00

RRP:

€9.30

gbp prices

Offer price:

£6.00

RRP:

£6.99

eur prices

Offer price:

€8.65

RRP:

€10.63

gbp prices

Offer price:

£6.50

RRP:

£7.99

eur prices

Offer price:

€42.55

RRP:

€46.48

gbp prices

Offer price:

£32.00

RRP:

£34.95

eur prices

Offer price:

€38.25

RRP:

€42.51

gbp prices

Offer price:

£28.75

RRP:

£31.96

eur prices

Offer price:

€7.00

RRP:

€7.97

gbp prices

Offer price:

£5.25

RRP:

£5.99

eur prices

Offer price:

€53.20

RRP:

€111.56

gbp prices

Offer price:

£40.00

RRP:

£83.88

eur prices

Offer price:

€8.00

RRP:

€9.30

gbp prices

Offer price:

£6.00

RRP:

£6.99

eur prices

Offer price:

€46.55

RRP:

€55.77

gbp prices

Offer price:

£35.00

RRP:

£41.93

eur prices

Offer price:

€63.20

RRP:

€74.37

gbp prices

Offer price:

£47.50

RRP:

£55.92

eur prices

Offer price:

€7.00

RRP:

€7.97

gbp prices

Offer price:

£5.25

RRP:

£5.99

eur prices

Offer price:

€53.20

RRP:

€111.56

gbp prices

Offer price:

£40.00

RRP:

£83.88

eur prices

Offer price:

€8.00

RRP:

€9.30

gbp prices

Offer price:

£6.00

RRP:

£6.99

eur prices

Price:

€8.00

gbp prices

Price:

£6.00

eur prices

Offer price:

€8.00

RRP:

€9.30

gbp prices

Offer price:

£6.00

RRP:

£6.99

eur prices

Offer price:

€24.95

RRP:

€31.88

gbp prices

Offer price:

£18.75

RRP:

£23.97

eur prices

Offer price:

€42.55

RRP:

€46.48

gbp prices

Offer price:

£32.00

RRP:

£34.95

eur prices

Offer price:

€36.60

RRP:

€39.90

gbp prices

Offer price:

£27.50

RRP:

£30.00

eur prices

Offer price:

€74.80

RRP:

€111.56

gbp prices

Offer price:

£56.25

RRP:

£83.88

eur prices

Offer price:

€8.00

RRP:

€9.30

gbp prices

Offer price:

£6.00

RRP:

£6.99

eur prices

Offer price:

€8.65

RRP:

€10.63

gbp prices

Offer price:

£6.50

RRP:

£7.99

eur prices

Offer price:

€8.00

RRP:

€9.30

gbp prices

Offer price:

£6.00

RRP:

£6.99
See more

Fantasy and magic
Fantasy and magic
eur prices

Offer price:

€8.00

RRP:

€9.30

gbp prices

Offer price:

£6.00

RRP:

£6.99

eur prices

Price:

€8.65

gbp prices

Price:

£6.50

eur prices

Price:

€8.65

gbp prices

Price:

£6.50

eur prices

Offer price:

€8.00

RRP:

€9.30

gbp prices

Offer price:

£6.00

RRP:

£6.99

eur prices

Price:

€8.65

gbp prices

Price:

£6.50

eur prices

Price:

€8.65

gbp prices

Price:

£6.50

eur prices

Price:

€8.00

gbp prices

Price:

£6.00

eur prices

Price:

€8.65

gbp prices

Price:

£6.50

eur prices

Price:

€8.65

gbp prices

Price:

£6.50

eur prices

Offer price:

€8.00

RRP:

€9.30

gbp prices

Offer price:

£6.00

RRP:

£6.99

eur prices

Price:

€63.20

gbp prices

Price:

£47.50

eur prices

Offer price:

€8.00

RRP:

€9.30

gbp prices

Offer price:

£6.00

RRP:

£6.99

eur prices

Offer price:

€13.65

RRP:

€17.28

gbp prices

Offer price:

£10.25

RRP:

£12.99

eur prices

Offer price:

€33.25

RRP:

€37.19

gbp prices

Offer price:

£25.00

RRP:

£27.96

eur prices

Price:

€8.65

gbp prices

Price:

£6.50

eur prices

Offer price:

€36.60

RRP:

€39.90

gbp prices

Offer price:

£27.50

RRP:

£30.00

eur prices

Offer price:

€8.00

RRP:

€9.30

gbp prices

Offer price:

£6.00

RRP:

£6.99

eur prices

Offer price:

€24.95

RRP:

€31.88

gbp prices

Offer price:

£18.75

RRP:

£23.97

eur prices

Price:

€8.65

gbp prices

Price:

£6.50

eur prices

Offer price:

€46.55

RRP:

€55.78

gbp prices

Offer price:

£35.00

RRP:

£41.94

eur prices

Offer price:

€8.00

RRP:

€9.30

gbp prices

Offer price:

£6.00

RRP:

£6.99

eur prices

Price:

€28.95

gbp prices

Offer price:

£21.75

RRP:

£23.97

eur prices

Offer price:

€21.60

RRP:

€23.90

gbp prices

Offer price:

£16.25

RRP:

£17.97

eur prices

Offer price:

€7.00

RRP:

€7.97

gbp prices

Offer price:

£5.25

RRP:

£5.99

eur prices

Offer price:

€53.20

RRP:

€111.56

gbp prices

Offer price:

£40.00

RRP:

£83.88

eur prices

Offer price:

€46.55

RRP:

€55.77

gbp prices

Offer price:

£35.00

RRP:

£41.93

eur prices

Offer price:

€13.65

RRP:

€17.28

gbp prices

Offer price:

£10.25

RRP:

£12.99

eur prices

Offer price:

€44.90

RRP:

€53.13

gbp prices

Offer price:

£33.75

RRP:

£39.95

eur prices

Offer price:

€42.55

RRP:

€46.48

gbp prices

Offer price:

£32.00

RRP:

£34.95