Teen Book Club
Books for 11+-year-olds
Check out the latest
Teen Book Club
range to find your next favourite read from the newest and best YA fiction and non-fiction. Plus, don't forget that every order over £10 will earn your school
20% in free books
– so you can keep reading all year round.
Find out more about Scholastic Book Clubs
.
Looking for books for a different age group?
---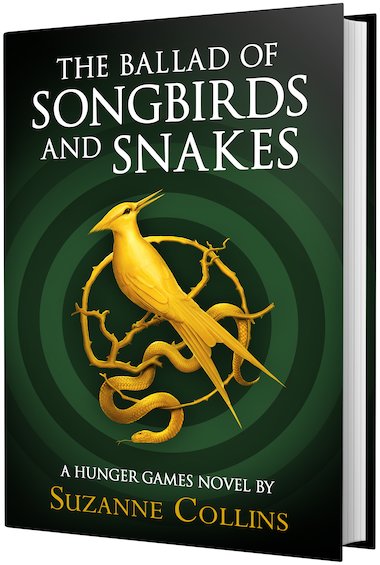 Our handpicked favourite
We have selected The Ballad of Songbirds and Snakes as our Teen handpicked favourite. It sweeps readers back to the reaping of the Tenth Hunger Games, sixty-four years before Katniss's story starts. In the Capitol, eighteen-year-old Coriolanus Snow is preparing for his one shot at glory as a mentor in the Games. His job: to mentor the doomed female tribute from District 12, the lowest of the low… Following the rise of President Snow, the unforgettable arch-villain of the original trilogy, this tale sweeps readers back into the brutal dystopian world of Panem in a nail-biting story of combat, courage and female empowerment.
Shop now
See more

Great value book packs
Great value book packs
eur prices

Price:

€69.75

gbp prices

Offer price:

£52.45

RRP:

£69.90

Award-winning

eur prices

Price:

€39.89

gbp prices

Price:

£29.99

eur prices

Price:

€21.30

gbp prices

Offer price:

£16.00

RRP:

£23.97

eur prices

Price:

€74.10

gbp prices

Offer price:

£55.70

RRP:

£90.87

eur prices

Price:

€60.00

gbp prices

Price:

£45.10

eur prices

Price:

€36.10

gbp prices

Price:

£27.15

eur prices

Price:

€65.50

gbp prices

Offer price:

£49.25

RRP:

£64.95

eur prices

Price:

€54.45

gbp prices

Offer price:

£40.95

RRP:

£55.93

Award-winning

eur prices

Price:

€29.25

gbp prices

Offer price:

£22.00

RRP:

£27.96

eur prices

Price:

€73.75

gbp prices

Offer price:

£55.45

RRP:

£101.83

eur prices

Price:

€23.65

gbp prices

Offer price:

£17.80

RRP:

£20.97

eur prices

Price:

€21.30

gbp prices

Offer price:

£16.00

RRP:

£23.97

eur prices

Price:

€31.60

gbp prices

Price:

£23.75

eur prices

Price:

€22.95

gbp prices

Offer price:

£17.25

RRP:

£20.97

eur prices

Price:

€27.60

gbp prices

Offer price:

£20.75

RRP:

£26.97

eur prices

Price:

€23.95

gbp prices

Offer price:

£18.00

RRP:

£23.97

eur prices

Price:

€109.45

gbp prices

Price:

£82.30

eur prices

Price:

€31.90

gbp prices

Offer price:

£24.00

RRP:

£31.96

eur prices

Price:

€13.95

gbp prices

Offer price:

£10.50

RRP:

£13.98

Award-winning

eur prices

Price:

€30.60

gbp prices

Offer price:

£23.00

RRP:

£31.96

Award-winning

eur prices

Price:

€44.50

gbp prices

Offer price:

£33.45

RRP:

£41.94

Award-winning

eur prices

Price:

€23.65

gbp prices

Offer price:

£17.80

RRP:

£20.97

Award-winning

eur prices

Price:

€16.95

gbp prices

Price:

£12.75

eur prices

Price:

€20.30

gbp prices

Offer price:

£15.25

RRP:

£20.97

eur prices

Price:

€27.05

gbp prices

Offer price:

£20.35

RRP:

£23.97

eur prices

Price:

€33.85

gbp prices

Offer price:

£25.45

RRP:

£41.93

eur prices

Price:

€39.90

gbp prices

Offer price:

£30.00

RRP:

£39.95

eur prices

Price:

€23.30

gbp prices

Offer price:

£17.50

RRP:

£29.95
See more

Award-winning authors
Award-winning authors
eur prices

Price:

€10.95

gbp prices

Price:

£8.25

eur prices

Price:

€7.65

gbp prices

Offer price:

£5.75

RRP:

£6.99

Award-winning

eur prices

Price:

€7.90

gbp prices

Offer price:

£5.95

RRP:

£6.99

eur prices

Price:

€8.60

gbp prices

Offer price:

£6.45

RRP:

£6.99

Award-winning

eur prices

Price:

€7.90

gbp prices

Offer price:

£5.95

RRP:

£6.99

eur prices

Price:

€8.60

gbp prices

Price:

£6.45

eur prices

Price:

€9.05

gbp prices

Offer price:

£6.80

RRP:

£7.99

eur prices

Price:

€9.05

gbp prices

Offer price:

£6.80

RRP:

£7.99

eur prices

Price:

€8.00

gbp prices

Offer price:

£6.00

RRP:

£7.99

eur prices

Price:

€69.75

gbp prices

Offer price:

£52.45

RRP:

£69.90

Award-winning

eur prices

Price:

€39.89

gbp prices

Price:

£29.99

eur prices

Price:

€9.05

gbp prices

Offer price:

£6.80

RRP:

£7.99

eur prices

Price:

€21.30

gbp prices

Offer price:

£16.00

RRP:

£23.97

Award-winning

eur prices

Price:

€7.65

gbp prices

Offer price:

£5.75

RRP:

£6.99

eur prices

Price:

€60.00

gbp prices

Price:

£45.10

eur prices

Price:

€7.65

gbp prices

Offer price:

£5.75

RRP:

£6.99

eur prices

Price:

€36.10

gbp prices

Price:

£27.15

Award-winning

eur prices

Price:

€11.30

gbp prices

Offer price:

£8.50

RRP:

£9.99

eur prices

Price:

€65.50

gbp prices

Offer price:

£49.25

RRP:

£64.95

Award-winning

eur prices

Price:

€6.30

gbp prices

Offer price:

£4.75

RRP:

£6.99

Award-winning

eur prices

Price:

€10.15

gbp prices

Offer price:

£7.65

RRP:

£8.99

New

eur prices

Price:

€21.50

gbp prices

Offer price:

£16.15

RRP:

£18.99

eur prices

Price:

€9.05

gbp prices

Offer price:

£6.80

RRP:

£7.99

Award-winning

eur prices

Price:

€29.25

gbp prices

Offer price:

£22.00

RRP:

£27.96

eur prices

Price:

€73.75

gbp prices

Offer price:

£55.45

RRP:

£101.83

Award-winning

eur prices

Price:

€8.60

gbp prices

Offer price:

£6.45

RRP:

£7.99

eur prices

Price:

€27.60

gbp prices

Offer price:

£20.75

RRP:

£26.97

New

eur prices

Price:

€7.90

gbp prices

Offer price:

£5.95

RRP:

£6.99
See more

Read what's on screen
Read what's on screen
eur prices

Price:

€9.30

gbp prices

Offer price:

£7.00

RRP:

£7.99

eur prices

Price:

€11.30

gbp prices

Offer price:

£8.50

RRP:

£9.99

eur prices

Price:

€9.30

gbp prices

Price:

£6.99

eur prices

Price:

€9.30

gbp prices

Price:

£7.00

eur prices

Price:

€9.05

gbp prices

Offer price:

£6.80

RRP:

£7.99

Award-winning

eur prices

Offer price:

€10.62

RRP:

€10.63

gbp prices

Price:

£7.99

eur prices

Price:

€21.30

gbp prices

Offer price:

£16.00

RRP:

£23.97

eur prices

Price:

€19.60

gbp prices

Offer price:

£14.75

RRP:

£18.97

eur prices

Price:

€9.30

gbp prices

Price:

£6.99

eur prices

Price:

€31.88

gbp prices

Price:

£23.97

eur prices

Price:

€9.30

gbp prices

Price:

£6.99

eur prices

Offer price:

€6.51

RRP:

€6.52

gbp prices

Price:

£4.90

eur prices

Price:

€10.15

gbp prices

Offer price:

£7.65

RRP:

£8.99

Award-winning

eur prices

Offer price:

€9.29

RRP:

€9.30

gbp prices

Price:

£6.99

eur prices

Offer price:

€7.11

RRP:

€7.12

gbp prices

Price:

£5.35

eur prices

Price:

€6.80

gbp prices

Offer price:

£5.10

RRP:

£5.99

eur prices

Price:

€6.58

gbp prices

Price:

£4.95

eur prices

Price:

€14.95

gbp prices

Offer price:

£11.25

RRP:

£12.99

eur prices

Price:

€6.58

gbp prices

Price:

£4.95

eur prices

Price:

€54.45

gbp prices

Offer price:

£40.95

RRP:

£55.93

eur prices

Price:

€8.60

gbp prices

Offer price:

£6.45

RRP:

£6.99

New

eur prices

Price:

€21.50

gbp prices

Offer price:

£16.15

RRP:

£18.99

eur prices

Price:

€37.19

gbp prices

Price:

£27.96

eur prices

Price:

€20.30

gbp prices

Offer price:

£15.25

RRP:

£23.97

eur prices

Price:

€6.80

gbp prices

Offer price:

£5.10

RRP:

£5.99

eur prices

Offer price:

€9.29

RRP:

€9.30

gbp prices

Price:

£6.99

eur prices

Price:

€21.30

gbp prices

Offer price:

£16.00

RRP:

£23.97

eur prices

Offer price:

€10.62

RRP:

€10.63

gbp prices

Price:

£7.99

Award-winning

eur prices

Offer price:

€9.29

RRP:

€9.30

gbp prices

Price:

£6.99
See more

Funny books
Funny books
eur prices

Price:

€69.75

gbp prices

Offer price:

£52.45

RRP:

£69.90

eur prices

Price:

€74.10

gbp prices

Offer price:

£55.70

RRP:

£90.87

Award-winning

eur prices

Price:

€29.25

gbp prices

Offer price:

£22.00

RRP:

£27.96

eur prices

Price:

€73.75

gbp prices

Offer price:

£55.45

RRP:

£101.83

eur prices

Price:

€31.60

gbp prices

Price:

£23.75

eur prices

Price:

€8.60

gbp prices

Offer price:

£6.45

RRP:

£6.99

eur prices

Price:

€6.65

gbp prices

Offer price:

£5.00

RRP:

£7.99

eur prices

Price:

€20.30

gbp prices

Offer price:

£15.25

RRP:

£20.97

eur prices

Price:

€9.05

gbp prices

Offer price:

£6.80

RRP:

£7.99

New

eur prices

Price:

€9.30

gbp prices

Offer price:

£7.00

RRP:

£7.99

New

eur prices

Price:

€9.05

gbp prices

Offer price:

£6.80

RRP:

£7.99

New

eur prices

Price:

€16.95

gbp prices

Offer price:

£12.75

RRP:

£14.99

New

eur prices

Price:

€9.05

gbp prices

Offer price:

£6.80

RRP:

£7.99

New

eur prices

Price:

€9.00

gbp prices

Offer price:

£6.75

RRP:

£6.99

eur prices

Price:

€9.30

gbp prices

Offer price:

£7.00

RRP:

£7.99

eur prices

Price:

€90.05

gbp prices

Offer price:

£67.70

RRP:

£90.88

eur prices

Price:

€8.60

gbp prices

Price:

£6.45

eur prices

Price:

€5.00

gbp prices

Offer price:

£3.75

RRP:

£6.99

eur prices

Price:

€6.30

gbp prices

Offer price:

£4.75

RRP:

£6.99

eur prices

Price:

€6.30

gbp prices

Offer price:

£4.75

RRP:

£6.99

eur prices

Price:

€8.60

gbp prices

Price:

£6.45

eur prices

Price:

€6.65

gbp prices

Offer price:

£5.00

RRP:

£7.99

Award-winning

eur prices

Price:

€7.30

gbp prices

Price:

£5.50

Award-winning

eur prices

Price:

€6.30

gbp prices

Offer price:

£4.75

RRP:

£6.99