We are continuing to fulfil all orders whilst rigorously following the safety advice of the government and Public Health England but due to the current situation you may experience longer delivery times than usual. If your delivery is going to a school and it's closed or you need to make any adjustments to your delivery please contact us at intschool@scholastic.co.uk. Don't forget that you can also run your Book Club online. remove
Dan Freedman
Biography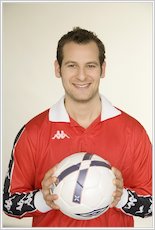 I was born in London in 1977 but my early writing career got off to a pretty rocky start. At my nursery school I used to write my words so close together that they got all jumbled up and no one could read them.
To be honest, my football career didn't kick off brilliantly either. My parents were divorced when I was very young so my dad thought that, when he saw me, taking me to football matches would be a good idea. But I was only about four or five. It was quite scary and I didn't like it at all. I used to plead with him to take me home so I could watch Buck Rogers on TV. But we both persevered and that's where the football seeds were sewn. These days it's me that drags him up from Brighton so we can watch games together.
By the time I joined school, football was pretty much the centre of my life. I never thought I was obsessed – I just liked it a lot – but those around me thought I was.
But I wanted to prove that I could be successful and still focus on football. So, during school and university I started to build a pretty decent CV for myself. I did work experience at, among other places, Arsenal FC, Radio Five LIVE, Carlton TV, The Mail on Sunday and Sky Sports. I'd worked out that if I wanted to get a job in football, I'd have to prove my ambition to people. Otherwise, I'd just sound like every other football mad kid: "I want to work in football." You have to stand out from the crowd in some way if you can.
My CV came in handy when, in 2000, after I'd graduated and gone travelling around Australia and New Zealand, I wrote to The FA to see if they had any vacancies. They called within a couple of days and said they were actually recruiting for graduates at that very time. What luck!
I was so nervous for the interview but I gave it everything. I didn't want them to think that I didn't want it enough.
Thankfully I got the job and it has lead to some unbelievable experiences. As Editor of The FA my job around the England Team is bring to life for the public what goes on behind the scenes and to give the players and coaches the platform to talk directly to the fans. The most important thing is getting the players to trust you, to understand you're on their side.
It was when I wanted to buy a present for an 11 year-old football mad boy that the idea to write this book actually struck. There didn't seem to be a football novel for kids. I couldn't understand it. I know that if someone had given me one when I was 11, I probably would have read it in two days flat.
I also knew that writing about football was something that I could do. So I did it.
Books
by Dan Freedman
You have earned 5 stars

of a maximum 5

(1)

You have earned 5 stars

of a maximum 5

(4)
Series
by Dan Freedman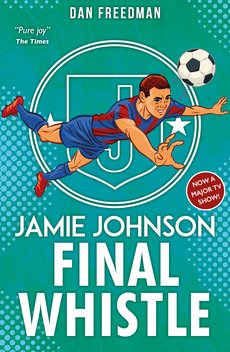 Interview with Dan Freedman
1. Jamie Johnson is all about triumphing over the odds. Can you give us any tips on how to become a professional footballer?
Well, the first thing you need is the natural ability. But you either have that or you don't, there's not a lot you can do about it. Then, among all the millions of people that have that natural ability, I think it's about your physical and mental dedication. Are you looking after yourself? Are you training as hard as you can? Do you believe in yourself? Are you trying to improve every time you play? And, if you get knocked back, how will you react? If you come back stronger, you've got half a chance.
2. Did you love football as child?
Absolutely. I can remember when I went to my first proper school we used to play everyday with tennis balls in the playground. It's actually a great way to improve your skills because if you can master a tennis ball, a full size one is easy! But I also loved football because of how it improved my life. I made so many of my friends through playing and also it's been something I've talked about with my dad for as long as I can remember. When we speak on the phone, we don't start with 'how are you?' we start with 'did you see the game?'!
3. What books did you like to read when you were younger?
Well, anything about football…obviously! Also Roald Dahl's books. They were just such brilliant fun. I can remember our teacher reading us The Twits in the playground. When she described his beard with bits of food hanging off it, we all fell about laughing. I think he would have been so proud to see children loving his books like that.
4. Do you think it's important to write books about cool subjects like football so kids have lots of books to choose from?
I think people should write about whatever fires their imagination because that's what they will write about best. But, yes, I do tend to agree that if the subject matter appeals to the reader in it's own right then that's a great place to start.
5. Being editor at the FA is the best job ever – how did you get into it?
Luck, timing and perseverance. When one sad, fateful day it dawned on me that I might not turn out to be a professional footballer, I immediately started thinking about how I could do the next best thing – working in football. While I was at school and uni, I did loads of jobs in football, working for free to get the experience. I worked at Arsenal, at Sky Sports and on a couple of national newspapers. So, by the time I was looking for a job I already had a decent enough CV.
I sent my CV into The FA on the off-chance that they had anything going. That's when the luck part came in; they happened to be recruiting for graduates at exactly that time, so they called me up and asked me to come in for an interview.
6. What do you do at the FA on a day-to-day basis?
The bulk of my job is editing the website, www.TheFA.com and the match programmes for England games and FA Cup Finals. That keeps me pretty busy and then when the England Team is together, I'm doing interviews and press conferences with the players.
7. Can you tell us about when you go abroad with the England team – do you travel first class and stay in posh hotels?
Yes to both those questions! We try and make sure that the players have everything they need when we travel. They are amazing experiences. I've even managed to gatecrash a couple of receptions at Downing Street and Buckingham Palace when the team has been invited! I'm always pinching myself. But that's a good thing. It would be sad if anyone took those kind of experiences for granted.
8. What team do you support?
Spurs. But don't tell anyone, it's a secret.
9. Who is the nicest footballer you've ever met?
Good question! When I was younger and on holiday in Mallorca with my mum and step-father we bumped into Gary Lineker while he was playing for Barcelona. He invited us to sit down and have a drink with him. I was absolutely star-struck but amazed by how nice that was of him.
These days, I've a huge amount of respect for Owen Hargreaves and what he has achieved since he used sit on his sofa in Canada and watch English football with his dad. He is a genuinely nice fella!
10. What's your most cringe-worthy story?
Hmm…How about the time that I waited for hours outside Spurs' ground to get Chris Waddle's autograph and then, when I asked him, I didn't have a pen?
Or, you could have the first day at the 2002 World Cup in Japan. I've always thought I'm a particularly good table-tennis player so I challenged Rio Ferdinand to a game. He smiled and said 'ok'. Then he gave me the biggest beating I've ever had in my life. It turns out he's near professional standard! How unfair is that?
Quick Quiz:
Dogs or Cats? Dogs. We had a puppy when I was a baby so I feel really comfortable with dogs.
Chocolate or Sweets? Generally neither. But chocolate if you catch me in a weak moment.
Girls playing football – cool or not? Seriously cool! It's the most popular sport for girls now.
Pizza or burger? Burger. 100%
Favourite computer game? Championship Manager of course.
Favourite websites? www.TheFA.com is my baby. Plus any with transfer gossip, I like all that (even though half of it isn't true!)
Text or call? Depends on who you're contacting and what for…
Favourite lesson at school? It changed all the time because it was the teachers made it fun or not. But English probably comes out on top.
Worst lesson at school? I can say without a doubt that Physics is the hardest thing I have ever had to try and learn in my life. I still don't know what all that was about.
Favourite colour? I like the sound of the word turquoise so I'll say that.
Favourite film? Tough one. Probably Shawshank.
Sly or Arnie? I don't think either to be honest. Kevin Spacey and Dustin Hoffman are probably my favourite actors.
City or country living? Both. To keep things fresh.