September Digital Book Club
Your September Digital Book Club is here! It's quick and easy to browse and shop our fantastic selection. Simply select the tabs below to see each selection – add books to your basket and check out securely online.
---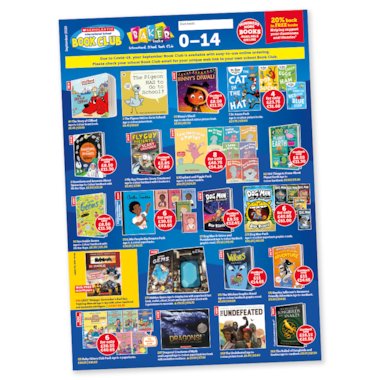 Your September Book Club flyer
Keep an eye out for your ISBC flyer, arriving in schools early September! Featuring the highlights from your September Book Club, hand out to your pupils for them to browse the books available.
Bestsellers
What's new?
Amazing value
Book packs
Why order from Scholastic Book Clubs?
Great-value, quality children's books selected by our team of experts
Secure online purchase and payment
Free delivery to your school*
Every order earns free books for your school
*Your order will be delivered to your child's school 7 to 10 working days after your school's group order closes. Please note that we are continuing to fulfil all orders whilst rigorously following the safety advice of the government and Public Health England but due to the current situation you may experience longer delivery times than usual.If your school is closed or you need to make any adjustments to your delivery please contact us at intschool@scholastic.co.uk.
---
Teachers and school administrators!
Your September Book Club can be run online.
To enable parents and carers to order and pay securely online please set up a School Group Order.
---